4K televisions are the thing in entertainment displays nowadays and Sony is trying to win the UK market by pricing their Sony Bravia X9 at £4,000, which is competitive by 4K standards. £4,000 is Sony's price for the 55-inch version, while consumers have to add £2,000 for the 65-inch version. If you think the prices are too high, CNET pointed out that the next cheapest 4K television you can get is LG's 84-inch display, which currently carries a price tag of £17,000.
4K a primer
If you have been living under a rock, 4K TVs are those that have resolution four times greater than the usual Full HD televisions. This means, they are extra clear with excellent details and premium quality passive 3D performance. Although 4K content is still lacking at the moment, these televisions actually perform well even with standard HD or SD video.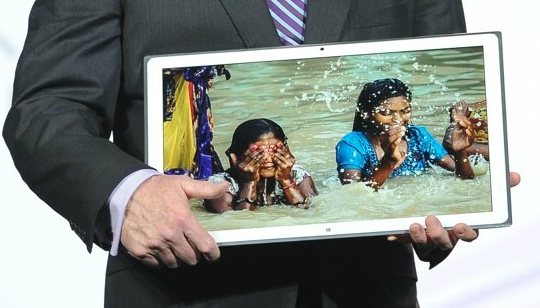 What you will get when you pay £4,000
Of course, £4,000 is still big money. And if you will be spending it for a television you surely want to get your money's worth, right? Fortunately, Sony spent a good amount of time working under the hood of their Bravia X9 to make it worth the money. To start with, both the 55-inch and 65-inch units create true and deep quality images. This can be credited to their Motion flow and Triluminous display features, which work together to reduce blur on the images and create broad and vivid colour palette. They also use Sony's very own 4K X-Reality Pro and X-Reality Pro processing engines that allow them to deliver both 4K content and Full HD content.
Bravia X9 also has magnetic fluid speakers as well as S-Force surround 3D, making you feel like you are watching in a cinema. To allow for more activity, the Bravia X9 line also connects wirelessly through Near Field Communication with the aid of Xperia smartphones and tablets. If you are worried that there will be limited 4K content available for you, the good news is that Sony is actually planning to create the world's first content distribution service.
That is, Sony Pictures would be teaming up with other distributors to provide consumers with 4K content. Although you will have to wait a while for this, it is certainly a good offering considering that you will be getting high quality videos right in your own television set. If you are in the UK, you can pick one of Sony's Bravia X9 at Curry's and PC World for the prices mentioned above. Sure, 4K televisions are expensive and in the case of Sony Bravia X9, the £4,000 is still not cheap. However, as a trend that has generated a lot of buzz across the CES trade show last year, there is no doubt that ultra HDs will likely become the standard format for both broadcast television and movies in the future. So if you want to be on the top of the trend, Sony Bravia X9 is actually a good offer worth the grab.
Author
Betty Fulton is a seasoned writer who is particularly interested in writing insightful posts about television technology, repair and maintenance. She also regularly contributes content for UK-based company Moving Pictures. The satellite and aerial repairs by Moving Pictures are available for Edinburgh residents.